Colocation: your IT infrastructure optimally available from our data center
More and more organizations are opting for colocation. The reason for this is simple: it is becoming increasingly difficult to reliably keep an IT infrastructure under one's own management. On premise server rooms or data centers are expensive, and with the advent of cloud services, concessions have to be made when setting up the IT landscape. Colocation offers the ideal solution.
Our data centers offer optimal availability and security. Thanks to economies of scale and the latest technology, we can very efficiently and effectively provide cooling, power and failover facilities such as UPSs (uninterrupted power supplies) and emergency generators. Fire safety protocols and installations meet the most stringent requirements and last but not least our data centers have strict physical security, including biometric scans and 24×7 CCTV.
Multiple Tier-III data centers

24x7 security and access

Redundant connectivity, including internet access
Colocation in Groningen and Amsterdam
We are present in three data centers in or near the city of Groningen, and in four data centers in Amsterdam. The geographical separation of these locations offers advantages, such as twin data center solutions and access to internet nodes such as the Amsterdam Internet Exchange, including from Groningen. All data centers are connected to each other via a redundant fiber-optic infrastructure.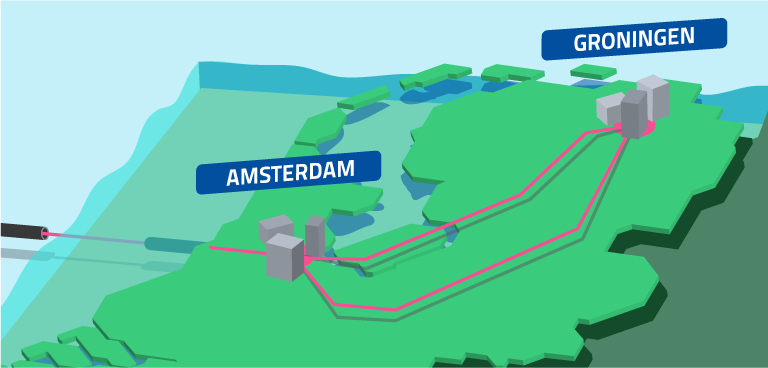 Secure, reliable and available
All data centers from which we offer colocation are designed and built according to Tier III standards. These Tier standards are internationally leading and indicate which provisions have been made to prevent or deal with calamities. Compliance with the Tier III standard ensures very high availability of your IT and the connectivity that is offered to and from the data center. Add to that 24/7 physical surveillance and advanced smoke detection and fire extinguishing installations, and you no longer have to worry about failure of your IT environment.